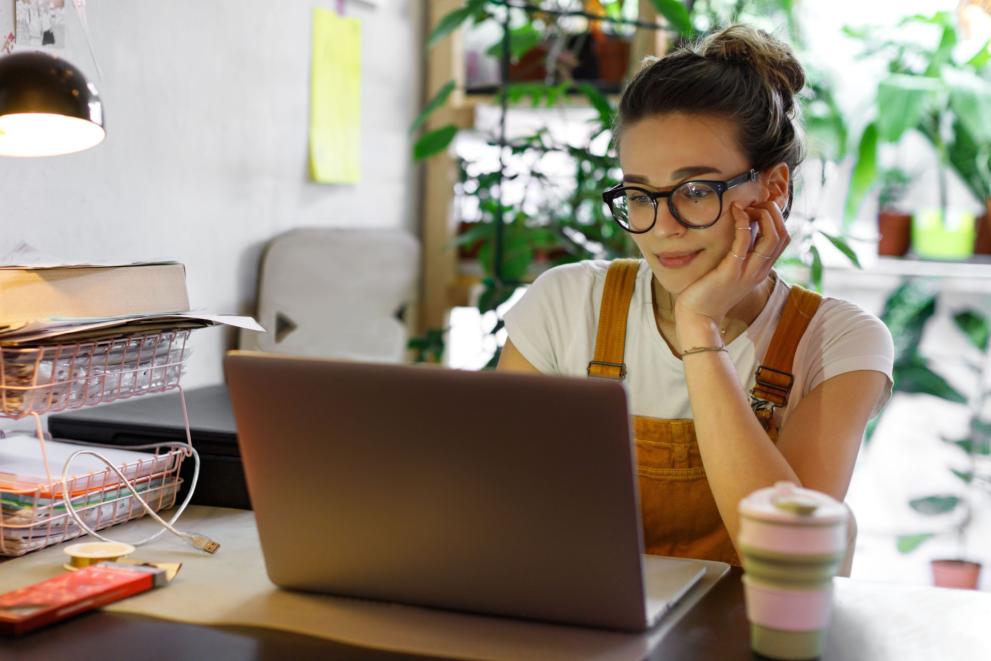 Create a comfortable and productive working space
Working remotely can be tricky, especially if it is the first time you have done so. It is important to think about how you want to set up your working environment. If you are working from home, try to choose a designated work area that is free from distractions. Ideally, you do not want to work in your room, as you want a clear differentiation between work and home life. It would be a good idea to invest in ergonomic furniture – consider this as an investment rather than an additional expense. A comfortable chair will do wonders for your productivity. You want to make your workspace a place you look forward to work in. Try personalising your space with some plants, art or other items that make you feel inspired and productive.
Maintain a healthy work-life balance
A healthy work-life balance is important whether you are working remotely or not. However, there are some things to consider in your new working arrangement. The line between work and life is blurred when working remotely, so it is key to set clear boundaries for work and personal time. Set defined work hours and try to keep to them – it can be easy to work beyond working hours, especially from the comfort of your home. Working in a confined space can lead to burnout and fatigue, so it could be a good idea to use your lunch break to get some fresh air and exercise. This will help you stay energised and healthy.
Be aware of distractions
Distractions and interruptions are commonplace when working remotely. You may be sharing a place with your family or housemates, which can prove difficult if they have different working hours to yours. Intruding pets or mail delivery are challenges that we do not have to contend with at the office. So, if you are working in a noisy environment, use noise cancelling earphones to better focus on your work. It is important to set boundaries with family members or housemates. Let them know your working hours and when you are free to socialise.
Our phones are a major distraction, so turn off app notifications and social media alerts during work hours – you will be surprised how much time we lose scrolling through these apps.
Stay focused and motivated
Working remotely can bring the flexibility and freedom that workers look for in the current job market. However, it can be difficult to stay focused and motivated due to isolation, procrastination and fatigue. There are a few strategies you can employ to combat this. You should dress appropriately and smartly to get you into the right mindset to stay focused. To combat isolation, you should stay in touch with your colleagues to foster a team environment. Schedule regular check-ins, collaborate with your clients and take advantage of social events to feel connected and motivated.
Feedback from your manager is essential for your career development and professional growth. Check out the best ways to respond to and act on your manager's feedback in a positive and effective way.
Related links:
The secret to using your manager's feedback as a catalyst for growth
Read more:
Find EURES Advisers ​
Living and working conditions in EURES countries
EURES Jobs Database
EURES services for employers
EURES Events Calendar
Upcoming Online Events
EURES on Facebook
EURES on Twitter
EURES on LinkedIn
Details
Publication date

21 September 2023

Authors
Topics

Hints and tips

Youth

Related section(s)

Hints & tips

Sector

Accomodation and food service activities

Activities of extraterritorial organisations and bodies

Activities of households as employers, undifferentiated goods- and services

Administrative and support service activities

Agriculture, forestry and fishing

Arts, entertainment and recreation

Construction

Education

Electricity, gas, steam and air conditioning supply

Financial and insurance activities

Human health and social work activities

Information and communication

Manufacturing

Mining and quarrying

Other service activities

Professional, scientific and technical activities

Public administration and defence; compulsory social security

Real estate activities

Transportation and storage

Water supply, sewerage, waste management and remediation activities

Wholesale and retail trade; repair of motor vehicles and motorcycles